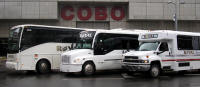 Royal Transportation Co., Inc.
401 St. Jean
Detroit, MI 48214
Telephone: 313-331-8700
FAX: 313-331-8720
Learn about our special packages.
Click HERE for all the details!
Retail Charter Services
Royal Transportation Company accepts Visa/MasterCard, American Express, Discover, Debit Card and Electronic Check payments. Please indicate the amount shown on your invoice when using the secure PayPal payment process.
Please note: An additional (4%) Service Charge fee will be applied to all credit card payments.
GM Employee-Royal Commuter Bus Program.
Royal Transportation Company has set up this secure PayPal process to accept your monthly payment. Prepayment is
required on or before the 10th day of each month for each
proceeding month of service. If you would like to prepay for
more than one month, please click the appropriate button below.